What is a CSV file?
CSV (Comma Separated Values) file is a plain text file that contains a list of data. These files are often used for exchanging data between different applications. For example, databases and contact managers often support CSV files. These files may sometimes be called Character Separated Values or Comma Delimited files. They mostly use the comma character to separate (or delimit) data, but sometimes use other characters, like semicolons.
You can export complex data from one application to a CSV file, and then import the data in that CSV file into another application.

How to import CSV files into Outlook?
If you want to convert your contacts (VCF file) to a CSV file and import it into Microsoft Outlook: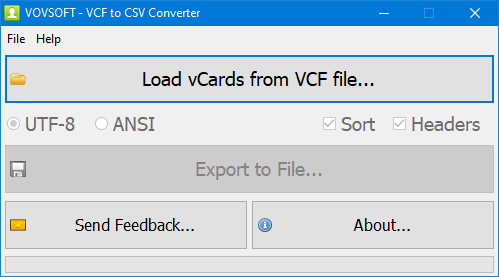 Download VCF to CSV Converter and run the application.
Click "Load vCards from VCF File" button and select your VCF file.
Click "Export to File" button.
Select "Comma-Separated Values File".
Select "Outlook CSV Format".
Go to Outlook.
Import the CSV file into MS Outlook Contacts. That's all!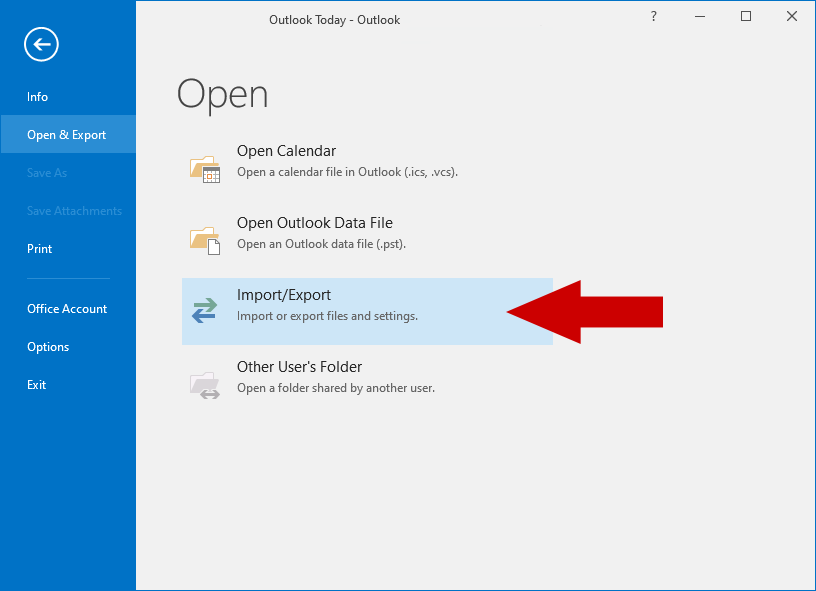 Click "Open & Export", then "Import/Export".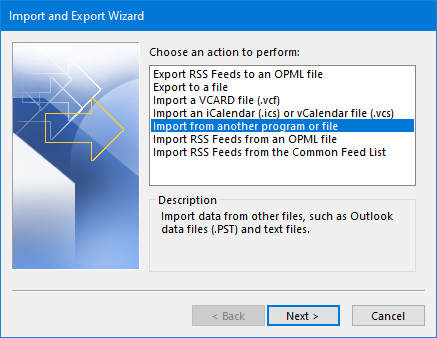 Select "Import from another program or file".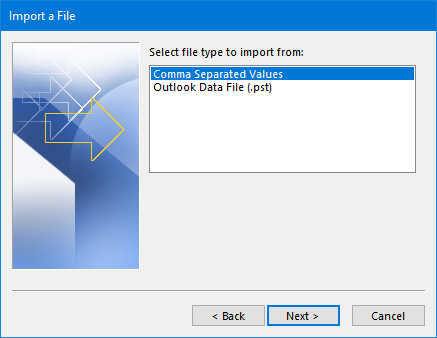 Select "Comma Separated Values".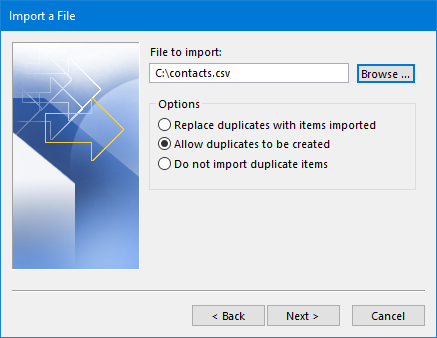 Browse the CSV file.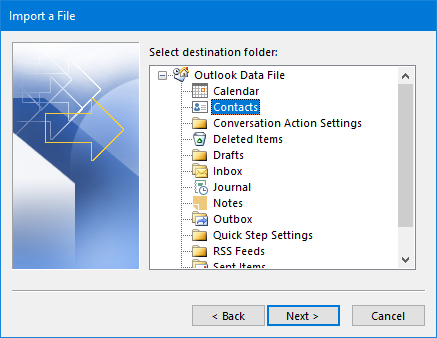 Select destination folder: Contacts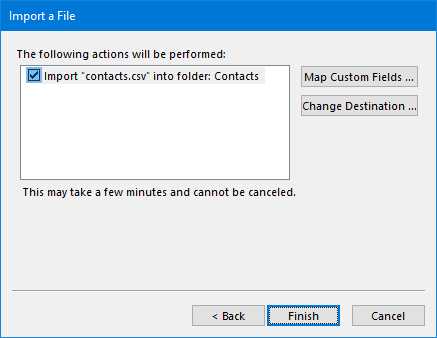 Finally, click "Finish" button.
Alternatively, if you want to prepare a CSV file for your contacts manually:
Create a new document in Microsoft Excel, OpenOffice Calc, LibreOffice Calc, or Google Sheets.
Add a column heading for each piece of information you want to record (for example, first name, last name, email address, phone number), and then type the information in the appropriate columns.
Select File > Save As.
Use the drop-down box to select CSV (Comma delimited) (*.csv), give your file a name, and then select Save.
Save your Excel file as a CSV file.
You can now use this new CSV file to import your contacts into Hotmail / Outlook or Microsoft Outlook software.

Outlook contact import template

Download: Sample CSV file for importing contacts into Outlook.csv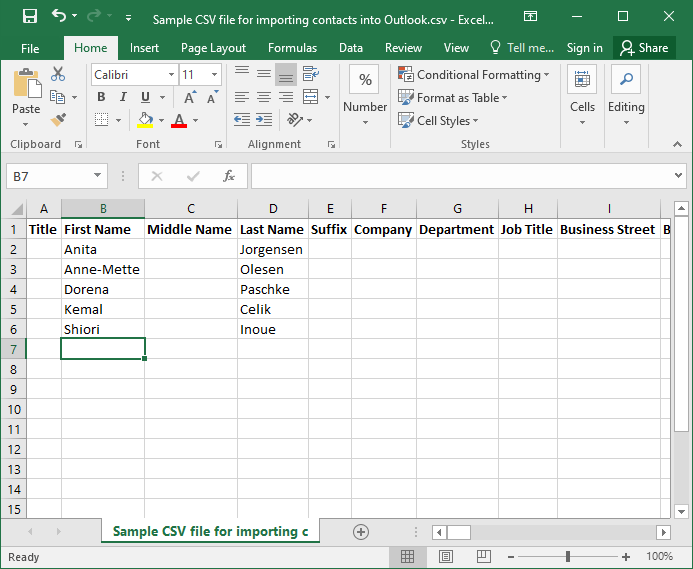 What is Outlook CSV format?
MS Outlook requires a specific CSV format. The following header fields can be used in Outlook CSV files:
Title
First Name
Middle Name
Last Name
Suffix
Company
Department
Job Title
Business Street
Business Street 2
Business Street 3
Business City
Business State
Business Postal Code
Business Country/Region
Home Street
Home Street 2
Home Street 3
Home City
Home State
Home Postal Code
Home Country/Region
Other Street
Other Street 2
Other Street 3
Other City
Other State
Other Postal Code
Other Country/Region
Assistant's Phone
Business Fax
Business Phone
Business Phone 2
Callback
Car Phone
Company Main Phone
Home Fax
Home Phone
Home Phone 2
ISDN
Mobile Phone
Other Fax
Other Phone
Pager
Primary Phone
Radio Phone
TTY/TDD Phone
Telex
Account
Anniversary
Assistant's Name
Billing Information
Birthday
Business Address PO Box
Categories
Children
Directory Server
E-mail Address
E-mail Type
E-mail Display Name
E-mail 2 Address
E-mail 2 Type
E-mail 2 Display Name
E-mail 3 Address
E-mail 3 Type
E-mail 3 Display Name
Gender
Government ID Number
Hobby
Home Address PO Box
Initials
Internet Free Busy
Keywords
Language
Location
Manager's Name
Mileage
Notes
Office Location
Organizational ID Number
Other Address PO Box
Priority
Private
Profession
Referred By
Sensitivity
Spouse
User 1
User 2
User 3
User 4
Web Page

Vovsoft VCF to CSV Converter automatically organizes all the information in your contact list in accordance with the Outlook CSV format and creates a CSV file for you. It can even preserve multi-line notes in CSV files.