Text Edit Plus Full Feature List

Last updated 3 weeks ago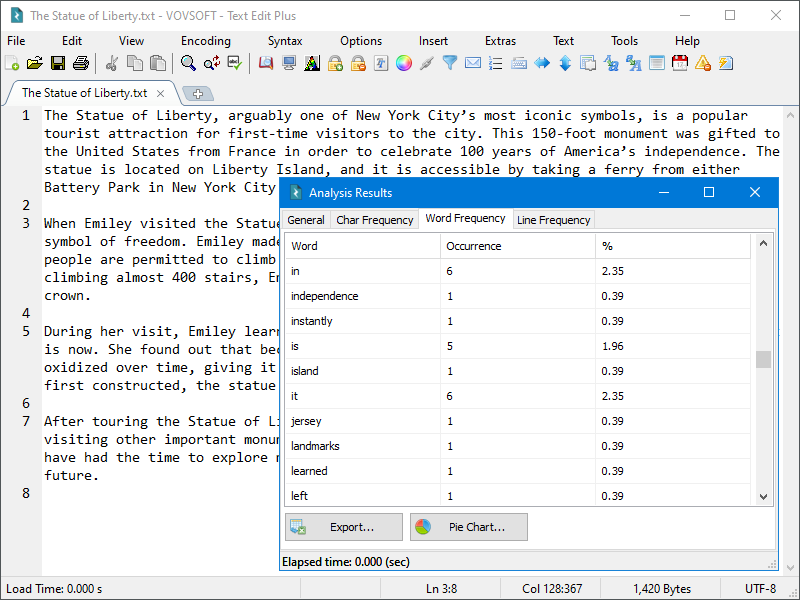 Open, edit, save, print plain text files (Everything what Notepad can do)
Switch between multiple text engines: SynEdit and Classic
Dark mode and light mode
Multiple tabs
Syntax highlighter (C++, C#, CSS, Fortran, HTML, Java, JavaScript, JSON, PHP, Pascal/Delphi, Perl, Python, Ruby, SQL, Visual Basic, XML, BAT, INI, Inno Setup Script, Unix Shell Script, Unreal Engine Script)
Code folding
Export to HTML
Export to PDF
Full screen display (using F11)
Encoding support: ANSI, UTF-8, UTF-16 (Unicode)
Unicode detector
Fix broken UTF-8 encoding (Example: Français ➡️ Français)
Convert non-English chars to English chars (Example: café-théâtre ➡️ cafe-theatre)
Generate quick text statistics (count characters, words, lines)
Real-time line numbers display (gutter)
Regular Expressions (RegExp)
Run with external executables
High-DPI awareness for wide screens such as Full HD and 4K
URL highlighter (Syntax menu)
Highlighted URLs are clickable hyperlinks (using Ctrl)
Select columns (vertical selection) (using Alt)
Delete word (using Ctrl+Delete key combination)
Increase and decrease font size (using Ctrl + mouse wheel scroll)
Search selected text with Google
Search every line with Google
Export lines to files
Insert date and time
Insert multiple files consecutively
Insert numbers consecutively
Insert text into beginning or end of lines
Insert same text multiple times
Load files using drag & drop
Insert filenames using drag & drop
Drag & drop selected text
Import picture as text (ASCII art)
Convert numbers to text (max: 18446744073709551614)
Add thousand separator to numbers
Highlight active line
Highlight even or odd lines
Ability to copy or delete highlighted lines
KeyPress simulator
Randomize lines
Random number generator
Move line up and down
Clip lines
Combine lines
Delete extra spaces
Delete starting or ending strings
Delete numbers [0-9]
Delete alphabetic [a-z] [A-Z]
Delete non-alphabetic
Delete alphanumeric [a-z] [A-Z] [0-9]
Delete non-alphanumeric
Delete empty lines
Delete duplicate lines
Filter lines (contains, ends with, begins with)
Net encoding (HTML, URL, Base64 decode & encode)
List "ordinal values of characters"
Reverse line sequence
Reverse line contents
Split lines (break or keep words)
Sort lines alphabetically (alphabetize)
Sort lines using line length
Trim lines (left, right, both)
Lowercase - uppercase conversion
Capitalize first letters
Compare 2 texts
Extra line spacing
Cipher: encode and decode text using password
Generate word list
Generate e-mail list
Generate domain name list
Generate hostname list
Generate URL list
Find erroneous e-mails
Auto refresh file
Auto copy highlighted text to clipboard
Auto paste when clipboard changes
Transform IDs
Show active line number, column number
Change background color and font properties
Open file using parameter
Find and replace string
Word wrap option
Stay on top
Tab options (tab size, replace by space, tab indent)
Please note that some features are only available when SynEdit text engine is selected.

About Author
Fatih Ramazan Çıkan

Delphi/PHP Enthusiast | Electrical and Electronics Engineer
---
Continue Reading
Responses (11)
MFM Dawdeh
Feb 5, 2022 at 11:39 pm (PST) |
Reply
The program is very good compared to similar programs, especially sentence recognition. And beyond the symbol. I hope to add a color to the interface appearing. To suit the view of everyone who used the program.
Roger
May 5, 2021 at 08:21 pm (PST) |
Reply
Program offers only a very poor limited range of just 7 fonts. Why is there no means of utilising one's computer-installed system fonts?
Vovsoft Support
May 6, 2021 at 07:25 am (PST) |
Reply
Hi Roger, you can activate all fonts by using the Options menu. Uncheck "Fixed-Pitch Fonts Only".
Dédéladebrouille
Feb 1, 2021 at 09:09 am (PST) |
Reply
Bonjour, Y aurait-il un manuel d'utilisation en Français ? Merci pour votre réponse