Question: I forgot my password. I keep getting wrong password error message. How to recover my password?
Open "Hide Files". Click: "Forgot Password". A reminder email will be sent to your email address associated with your license key. It is not possible to send password recovery email without a registered license key.

Question: How to enter or change my license key?
Right-click the Hide Files system tray icon, then click "Edit License", finally enter your license key.

Question: How to change master password of "Hide Files"?
First log into "Hide Files" using your current password. Then, use the menu on the top: Edit - Change Password.

Question: Can other Windows user accounts run "Hide Files", lock/unlock files/folders?
Yes. All users can access "Hide Files" if they know the valid "Hide Files" password.

Question: Does "Hide Files" provide military-grade encryption?
"Hide Files" makes data hidden, changes folder locations and renames files. It provides essential protection. But it doesn't encrypt the file contents because content encryption is a time-consuming operation and usually irreversible if correct key is forgotten.

Question: Can other computer users see my hidden files using Windows safe mode or command line?
No. The hidden files cannot be seen by other users without significant technical knowledge.

Question: Can I lock my external disk in my computer and unlock it in another computer by installing "Hide Files" on both of the computers?
No. Locking and unlocking can only be performed on the same computer.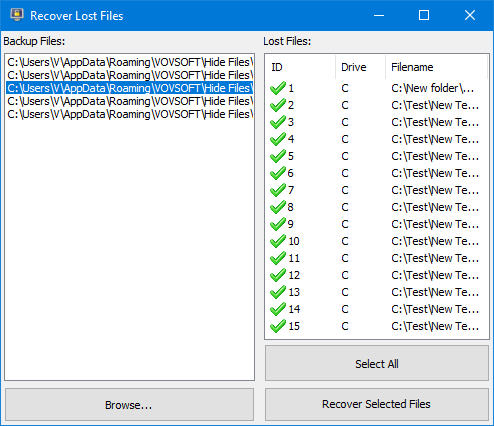 Question: My computer crashed, i can't access my hidden files. What can I do to recover my files?
Your files are still on your drive. However "Hide Files" keeps filenames and directory structure on Windows Registry. It can't restore these files without proper Windows Registry entries. Fortunately "Hide Files" creates backups that can facilitate recovery. First of all, download and install the latest version of "Hide Files" from our web site. Then, launch the application and use the menu item: "Process" - "Recover Lost Files". Click the backup filenames on the list and try to recover your files. If this way doesn't solve the problem, please try recovering your files using recovery software such as ZAR X, R-Studio, GetDataBack, EaseUS, PhotoRec, Recuva. Make sure you don't write anything else to that drive. Save the recovered contents to another drive.

Question: I'm worried my computer will crash. How can I be able to recover my locked files after reinstalling Windows on C drive?
Unlock any files on the C drive. Move and lock them inside another drive.
"Hide Files" must be closed properly.
Go to C:\Users\[USERNAME]\AppData\Roaming\VOVSOFT\Hide Files
Copy the latest BAK file into another drive other than C.
You can recover all your files, after formatting the C drive and reinstalling Windows, by using the BAK file.

Question: I reinstalled Windows. I have my BAK file. How can I restore my locked files?
Install "Hide Files" into your new system.
Open menu item: "Process" - "Recover Lost Files".
Browse your BAK file.
Select the files you wish to recover or click "Select All".
Click "Recover Selected Files".

Question: My locked files/folders are not displayed on "Hide Files". What is wrong?
You must use the same Windows installation. If Windows was reinstalled or Windows Registry was cleared, "Hide Files" can not display and unlock the files/folders. If this is not your case, you can try Windows System Restore and restore to an old installation point.

Question: I try to lock a file/folder but I get an error message. What can I do?
The files or folders you want to lock should not be used by another application or Windows service.

Question: I try to unlock a file/folder but I get an error message. What can I do?
Make sure the target file/folder is not used by another process.
If the file/folder you wish to unlock is on an external drive, make sure the drive is connected and the drive letter is the same.
You can also try to create the folders manually. Thus, the software can try to restore the files in them. This kind of problems can occur because of user privileges.