It's very easy to activate Vovsoft products using your license key. If you don't have, you can purchase a license key right away.
Online Activation
You only need to enter your license key and click the OK button.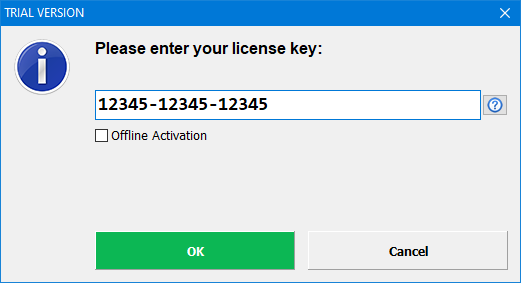 Lost your license key?
Do you have a valid license key but still get "Activation Failed!" error?
If your internet connection is fine, try creating a new Windows user account. Some customers reported that creating a new Windows user account fixed the issue.
If you have a VPN client installed, try disabling or uninstalling it. Some customers reported that disabling or deleting VPN connections fixed the issue.
If you have to activate without internet connection, try Offline Activation.
Offline Activation
Please note that offline activation is only available for paid license keys.
If your computer is not connected to the internet or is behind a firewall which blocks online activation, you can activate Vovsoft products using the offline activation method.
You can get your Activation Code instantly by using our Offline Activation Form:
Go to Client Area.
After logging in, click Offline Activation.
Enter your license key and computer code (your computer code is displayed in Vovsoft software).
Click Get Activation Code button.
Make sure your computer is disconnected from the internet before trying offline activation.