Download Multiple Web Pages

Last updated 1 year ago

How to download multiple web pages at once?
Looking for a way to download multiple web pages, images, documents or other files from web sites without using a browser?
Rather than using a browser to manually start downloading each file, you could use a mass URL downloader software which downloads them for you.
Download and install the URL Downloader software, which is the program we'll be using in this example (it is a product of Vovsoft). Batch URL Downloader can retrieve and save the content of a given World Wide Web URL as a file on your computer.

How to use Batch URL Downloader in 4 easy steps
Open the application.
Insert the list you want to download into the URL List field (each line states distinct URL).
You can change the download directory (folder) using the Save to Folder field.
Click the Download All button to start the process.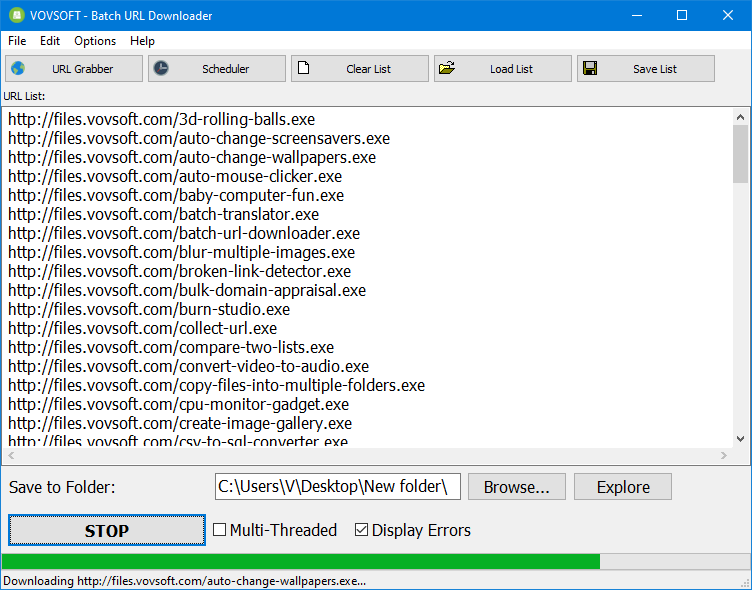 Do you need more advanced features?
Although this program is designed for easy use by anyone, it also includes more advanced features such as "URL Grabber" and "Scheduler".
URL Grabber allows grabbing and downloading all links from any URL. It also offers the possibility to filter if not all links are required.
Scheduler allows downloading links at regular intervals.

About Author
Fatih Ramazan Çıkan

Software development enthusiast | Electronics engineer
---
Continue Reading
Responses (4)
gg
Jan 4, 2023 at 09:54 am (PST) |
Reply
Hello Is it possible to download html pages with pictures ? regards
Larry Wilson
Dec 24, 2022 at 09:42 am (PST) |
Reply
I like the simplicity of the design, but it gives a timeout error when I try this URL: https://rockyweb.usgs.gov/vdelivery/Datasets/Staged/Elevation/LPC/Projects/CA_NoCAL_3DEP_Supp_Funding_2018_D18/CA_NoCAL_Wildfires_B4_2018/LAZ/USGS_LPC_CA_NoCAL_3DEP_Supp_Funding_2018_D18_w2315n2262.laz
Vovsoft Support
Dec 24, 2022 at 04:12 pm (PST) |
Reply
Hello Larry. Please download the latest version. Use the Options menu, Display Advanced Settings. Then, increase "Connection Timeout" and "Response Timeout" values.
Bill Fischer
Sep 28, 2021 at 07:43 pm (PST) |
Reply
This
Batch Downloader
is a great idea, but has lotsa problems. For example, there are 3 (google,wikipedia and one other) that are ALWAYS in the queue. There is no way to get them outta there.