How to Download Emails from Gmail

Last updated on November 25, 2020
Download your Gmail mailbox to your computer
First, turn on "Less Secure Apps" using https://myaccount.google.com/lesssecureapps
Then download and install Download Mailbox Emails software for Windows.
Use the following information on the application: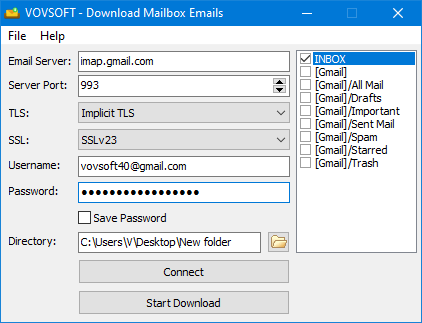 Email Server: imap.gmail.com
Server Port: 993
TLS: Implicit TLS
SSL: SSLv23
Click "Connect" button.
Then, choose INBOX (or any other folder).
Finally, click "Start Download" button. The contents of your INBOX will be downloaded (as EML files) into the specified directory.
---
Continue Reading
2 Comments
Dave
November 25, 2020 11:01 AM (GMT)
Just returns the error - Socket Error # 10054 Connection reset by peer
Vovsoft Support
November 25, 2020 11:35 AM (GMT)
Hi Dave. We've just updated the blog post including more details and a screenshot. Hope it helps.