Open multiple files, folders, URLs at once
Required software:
Working with multiple files, folders, apps or URLs at the same time can result in hectic situations, especially when trying to launch or open several instances at a time. Carried out manually, this process can be at least tiresome, not to mention inefficient. Open Multiple Files is an app which was developed for helping users cope with such issues and allow them to open multiple files or folders simultaneously.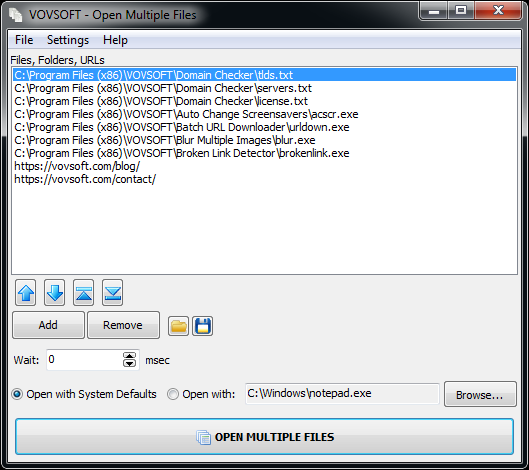 Adding files or folders is a breeze and users can do so by either resorting to the dedicated menu, buttons or by dragging-and-dropping the preferred files. Once files or folders have been added, these will appear listed in the app's main viewing area, which could have benefited from the addition of a detailed-type listing, for better identification. Besides the files or folders, the app can also receive URLs as input, as well as executable files, this way providing users a broader usage palette. Running the main feature - the multi-file opener will quickly launch all the added content, simultaneously, in the inserted order.
A great feature is the ability to save the added content as a text listing, which can be opened at any time. This not only improves overall efficiency but also offers people the ability to manage their multi-file sessions better.
Drag & Drop
It is possible to insert multiple files or folders into Open Multiple Files list by using drag & drop.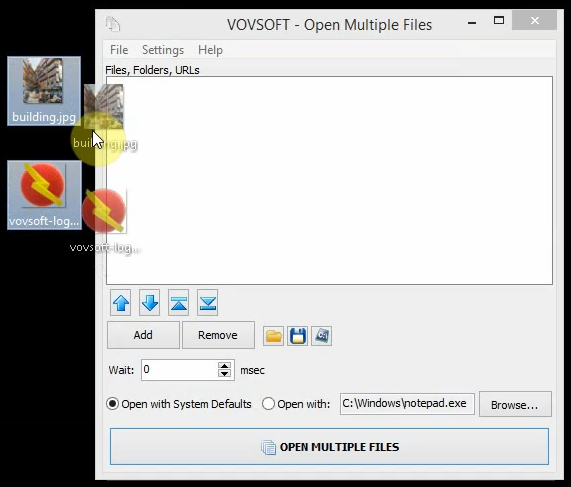 Use "Send to" from the context menu
Right click on the required files or folders, then select the 'Send to' option.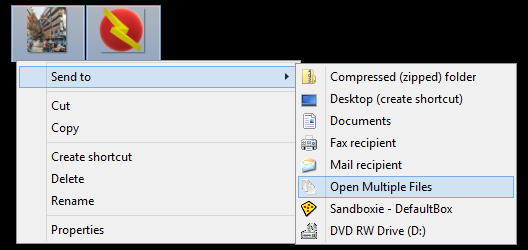 Open Multiple Files menu items
Grant Administrator Privileges: Click this item before opening multiple applications requiring UAC admin privileges. Without this feature, it would be necessary to grant UAC (User Account Control) prompt for each application.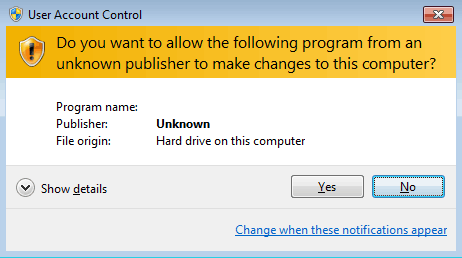 Remember List: Make this item checked if you want to keep list items at next application start.
Auto Open List: Make this item checked if you want to auto-open list items at application start.
Auto Close Application: Make this item checked if you want Open Multiple Files to be auto-closed after the operation.
Auto Run at Startup: Make this item checked if you want to run Open Multiple Files automatically when you log on to Windows.
Reset to Defaults: Click this item if you want to clear all settings and list items.
Command line parameters
Open Multiple Files can also be used from Windows command prompt.
"C:\Program Files (x86)\VOVSOFT\Open Multiple Files\openmultiple.exe" [File1] [File2] [File3] ... [FileN]
"C:\Program Files (x86)\VOVSOFT\Open Multiple Files\openmultiple.exe" C:\Run.exe C:\Open.pdf
Instead of specifying every file using parameters, you can specify only one plain-text file list. Every line must include a filename with full path.
"C:\Program Files (x86)\VOVSOFT\Open Multiple Files\openmultiple.exe" [Filelist]
"C:\Program Files (x86)\VOVSOFT\Open Multiple Files\openmultiple.exe" C:\FileList.txt